Safety First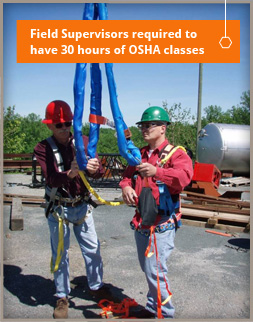 First and foremost,
our commitment is to safety.
When proper safety controls are in place, our team can work swiftly and with ease—allowing them to complete projects safely and efficiently.
CSE, Inc., has created an Excellence in Safety Program, which holds our employees accountable through a culture-based, comprehensive plan that includes:
Hazard recognition-control
Accountability across all levels of our organization
Education and training
Solid risk management and comprehensive insurance program
Compliance
"
Luck is the random result of circumstances and situations void of directed influences. Luck had nothing to do with this accomplishment. It is the result of highly skilled and dedicated professionals working together safely to an expected and defined goal. Without these men and women and their amazing contributions to this endeavor, none of this would be possible.
"
—Nuclear Client
OSHA 30 is required for all supervisors and OSHA 10 hours is offered to employees as continuing education and for specific job requirements.
These programs are developed by OSHA, MSHA and Red Cross certified instructors along with an active, well-informed safety committee. Our company consistently maintains incident rates well below industry standards across our specialties.
We have reached multiple milestones of surpassing 1 million manhours without a lost time injury.
This doesn't just make our team heavily skilled and trained in our industry; it puts CSE ahead of the curve from other companies in our field.